Landscape Trailers With Single Axle For Sale in Alabama
Landscape trailers are utility trailers with high side mesh. You can carry an ATV, gator, motorbikes or landscape equipment. These trailers are very popular in Alabama because your smaller items are safe. Nothing can fall over the trailer sides. Call Jerry, (205) 664-2557.
We make only the best quality utility trailers.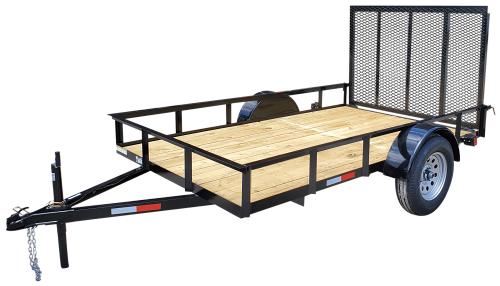 Landscape trailer Specifications
"A" frame c channgel or tripple tubing tongue
3"x2" angle iron on the bottom,
3500 lb axle with E-Z Lube bearings
Treated wood floor
Side height 24"
4-way flat electrical plug
2" coupler with safety chain
1" x 1" tubing gate
Tires 205-75-15
Insulated wiring harness (no 6x10, 6x12, 6x14)
Jack
| | | | | | | |
| --- | --- | --- | --- | --- | --- | --- |
| Size | Frame | Empty Weight | Payload | Tire | Brakes | Price |
| 5x10 | 3"x 2" Angle | 800 | 2700 | 15" Radial | No | $ 1,896* |
| 5x8 | 3"x2" Angle | 750 | 2750 | 15" Radial | No | $ 1,836* |
| 77x10 | 3"x 2" Angle | 850 | 2650 | 15" Radial | No | $ 2,028* |
| 77x12 | 3"x 2" Angle | 900 | 2600 | 15" Radial | No | $ 2,130* |
| 77x14 | 3"x 2" Angle | 1000 | 2500 | 15" Radial | No | $ 2,292* |