Enclosed Trailers Single Axle For Sale in Alabama
Single axle enclosed trailers are very popular for thair versatility and safety. Whatever you want to haul you can be sure that your load will be in safer conditions than in utility trailer. We offer a wide range of options for your enclosed utility trailer in Alabama.
Call Jerry, (205) 664-2557!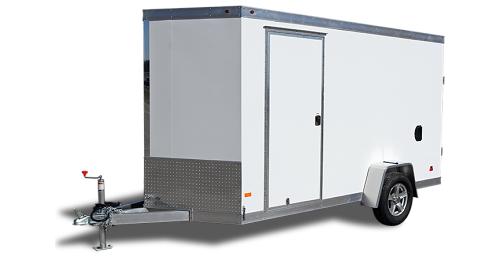 Enclosed Single Axle Trailers Specifications
"V" nose
3,500 lb per axle
Tires 205-75-15
Rear ramp or swing door
Side door (no 5x8, 5x10)
24" stone guard
LED rear lights
Running lights
Light
Vent (no 5x8, 5x10)
16" centers on the walls join
3/4" plywood on floor
3/8" plywood on walls
16" centers walls joist (wall framing)
24" centers floor joist (floor framing) only 5x8, 5x10, 6x10
Height inside 5", 6', 6' 3"
Jack
| | | | | | | |
| --- | --- | --- | --- | --- | --- | --- |
| Size | Frame | Empty Weight | Payload | Tire | Brakes | Price |
| 6x10 | 2"x4" | 1200 | 2300 | 15" | | $ 3,834* |
| 6x12 | 2"x4" | 1300 | 2200 | 15" | No | $ 4,110* |
| 6x10 | 2"x4" | 1200 | 2300 | 15" Radial | No | $ 3,834* |
| 6x10 | 2"x4" | 1200 | 2300 | 15" Radial | No | $ 3,834* |
| 6x12 | 2"x4" | 1300 | 2200 | 15" Radial | No | $ 4,110* |
| 6x12 | 2"x4" | 1300 | 2200 | 15" Radial | No | $ 4,110* |
| 6x12 | 2"x4" | 1300 | 2200 | 15" Radial | No | $ 4,590* |
| 6x12 | 2"x4" | 1300 | 2200 | 15" Radial | No | $ 4,590* |
| 5x10 | 2"x3" | 880 | 2620 | 15" | | $ 3,678* |
| 6x10 | 2"x4" | 1200 | 2300 | 15" | | $ 3,834* |
| 6x12 | 2"x4" | 1300 | 2200 | 15" | | $ 4,110* |