Equipment Trailers | Flatbed Trailers | Alabama
Now you can buy a new equipment trailer for less that what most of us pay for used equipment trailers in Alabama. Check our low prices and save your money without expensive trailer rental. VV Trailers has a great selection at any flatbad trailers you might ever need. We sell equipment trailers for less. Call Jerry, (205) 664-2557!
Equipment trailers straight from manufacturer
No middle man
No overhead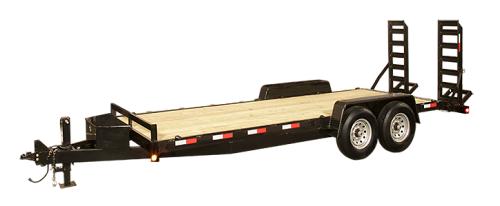 About Equipment trailers
Tandem axle equipment trailers are built for heavy duty hauling. They are built much stronger than regular utility trailers with tandem axle. Equipment trailers can be seen every day on the road hauling bobcats, tractors or backhoes. We provide equipment trailers 83" width and 16' or 18' or 20' length. We also have Gooseneck connection option for $600 or "deckover" connection for $500.
Specifications
Main Frame "C" channel
Treated wood floor
3,500 or 5,200 or 6,000 or 7,000 lb per axle,
E-Z Lube hubs
7-way plug
2 5/6" coupler with safety chain
Fold up ramps
Radial tires
Adjustable hitch
Stake pockets
Brakes on both axles (not available for 3,500 and 5,200 lb per axle)
Brake away (not available for 3,500 and 5,200 lb per axle)
2' Dove tail
7-K Jack
Add Gooseneck to equipment trailer $600 (not available for 3,500 and 5,200 lb per axle)
Add Deckover to equipment trailer $500 (not available for3,500 and 5,200 lb per axle)
Customization
There are many options available with our trailers. For example, you can add Gooseneck to equipment trailer for $600 or flat bad for $500. If you don't see what you need, call us (205) 664-2557, we will custom build your trailer.
Choosing the correct flat bed trailers
At VV trailers, we want to be sure that you purchase the trailer that will meet your needs. There are many things to consider.
Figure your needs
There are many questions which you should ask before you purchasing a new utility trailer. Look at the questions below. Use your answers to pick the best size trailer for you.
Which width is the best for you?
4', 5', 6', 6'5" or 6'11"?
Think about the width of what you will be hauling and the ease of maneuvering it on the trailer.
Which length is the best for you?
What payload capacity do you need?
What kind of side panels best suit your needs?
What kind of vehicle will you use to haul your trailer?
Where will you store your trailer?
We proudly serve to Birmingham Alabama, Huntsville Alabama, Tuscallosa Alabama, Montgomery Alabama, Auburn Alabama and Mobile Alabama. No matter where you live in Alabama, it is worthy to drive to the Alabaster, Al. You will save your money. Call Jerry (205) 664-2557!