Angle Utility Trailers LR For Sale in Alabama
High-quality angle utility trailers with single axles are a cheaper version of our tubing utility trailers. The price is usually lower by $120-$150 because steal companies charge for less for the angle. When you look closer to any angle utility trailer from Mike there is almost no difference between tubing and angle. Angle steel is thicker than tubing steel.
We make only the best quality utility trailers.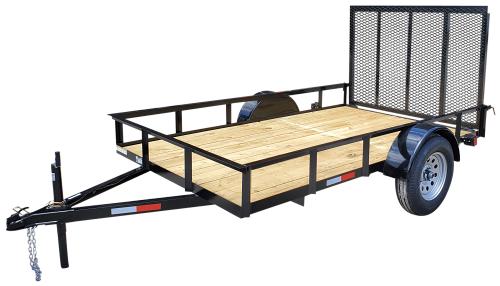 Angle Trailers Specifications
Tripple angle A frame
2"x 2" angle iron on the bottom
2"x2" tubing top rail and side posts
Treated wood floor
Side height 1'
4-way flat electrical plug
2" coupler with safety chain
4' gate, 1"x1" tubing
Tires 15"
Jack
| | | | | | | |
| --- | --- | --- | --- | --- | --- | --- |
| Size | Frame | Empty Weight | Payload | Tire | Brakes | Price |
| 5x10 | 3"x2" Angle | 700 | 2800 | 15" Radial | No | $ 1,554* |
| 5x12 | 3"x2" Angle | 700 | 2800 | 15" Radial | No | $ 1,626* |
| 5x14 | 3"x2" Angle | 700 | 2800 | 15" Radial | No | $ 1,740* |
| 5x8 | 3"x2" Angle | 700 | 2800 | 15" Radial | No | $ 1,506* |
| 77x10 | 3"x2" Angle | 700 | 2800 | 15" Radial | No | $ 1,740* |
| 77x12 | 3"x2" Angle | 700 | 2800 | 15" Radial | No | $ 1,818* |
| 77x14 | 3"x2" Angle | 700 | 2800 | 15" Radial | No | $ 1,860* |